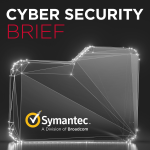 Symantec Cyber Security Brief Podcast
Our regular podcast series features threat research and security news, hosted by threat researchers from the Threat Hunter Team.
Trickbot disruption, newly released Seedworm research, and some noteworthy indictments
On this week's Cyber Security Brief, Dick O'Brien and Brigid O'Gorman are joined by Symantec threat researchers Vikram Thakur and Alan Neville. Vikram discusses Symantec's role in the cross-industry initiative to disrupt the Trickbot botnet. Symantec was part of a global partnership that secured a court order directing hosting providers to take down Trickbot's infrastructure. Trickbot had spread prolifically across the internet for years and became one of the most commonly blocked types of malware, suggesting it was one of the world's largest botnets. Alan is on the podcast to discuss some newly-published Symantec research into Seedworm, as the Iran-linked group continues to target organizations in the Middle East, while we also chat about some of the indictments that have recently been announced against various nation-state backed actors around the world.
Round up: Financial sector threats, North Korean actors, WastedLocker and more
We are back! Welcome to Season 3 of the Cyber Security Brief podcast, recording now from home. We will be with you every fortnight going forward and we are delighted to be back to tell you all about what is happening in the world of cyber security. In this episode, Dick O'Brien and Brigid O'Gorman discuss some of the projects they have been working on while the podcast was off air - threats against the financial sector, North Korean threat actors' activity, the WastedLocker ransomware, and an attack linked to the Palmerworm APT group are all covered.