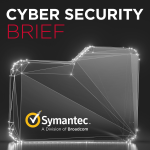 Symantec Cyber Security Brief Podcast
Our regular podcast series features threat research and security news, hosted by threat researchers from the Threat Hunter Team.
Attacks on critical infrastructure, ransomware arrests, and the return of Emotet?
On this week's Cyber Security Brief, Brigid O Gorman and Dick O'Brien discuss some recent attack campaigns aimed at critical infrastructure organizations in several countries around the world, the possible return of the Emotet botnet, and some law enforcement activity that has led to the arrest of people involved with both the REvil and Gandcrab ransomware. We also discuss some new techniques being used by the BazarLoader gang, and an FBI system being compromised and used to send out fake information security alerts.
BlackMatter updates, lots of law enforcement activity, and new SquirrelWaffle malware is one to watch
On this week's Cyber Security Brief, Brigid O Gorman and Dick O'Brien discuss some of our recent blogs, including at least one BlackMatter ransomware affiliate using a new data exfiltration tool in attacks, and also the breaking news that the BlackMatter ransomware operation is apparently winding down. We also discuss another recent blog we published about banking Trojan activity in Latin America, while recent law enforcement activity cracking down on ransomware criminals is also up for discussion. Elsewhere, we also talk about SquirrelWaffle, a reasonably new malware that is used as a loader and has been mentioned as a potential successor to the notorious Emotet for the delivery of threats.
New research about the Yanluowang ransomware and two separate campaigns targeting victims in Asia
On this week's Cyber Security Brief, Brigid O Gorman and Dick O'Brien discuss several new blogs that the Symantec Threat Hunter Team has published recently. Firstly, we uncovered a new ransomware threat that we dubbed Yanluowang, which appears to be deployed in a targeted fashion and is certainly a new threat as various indications point towards it still being in development. We also published two blogs detailing two separate campaigns targeting organizations in Asia. The Harvester group is a previously unknown, likely nation-state backed group targeting victims in South Asia, while elsewhere a new espionage campaign is targeting the defense, healthcare, and ICT sectors in South East Asia. Meanwhile, we also discuss new activity from a targeted attack group dubbed LightBasin, and the return of the Lyceum group.
Governments tackle cyber crime, ransomware arrests, and an interesting phishing campaign
On this week's Cyber Security Brief, Brigid O Gorman and Dick O'Brien discuss how the UK and the U.S. are planning to increase their efforts to tackle cyber crime, ransomware being blamed in court for the death of a baby, and the arrests of some ransomware criminals in Ukraine. Also, the Conti ransomware gang makes some threats, evidence of the Pegasus spyware allegedly found on the phones of French cabinet ministers, and an interesting targeted phishing campaign.
A new ransomware whitepaper and some recent ransomware stories, plus new botnet is carrying out giant DDoS attacks
We are back for Season 4 after our summer break, and on this week's Cyber Security Brief podcast Dick O'Brien and Brigid O Gorman spend a lot of time discussing the subject that also dominated the last season of the podcast - ransomware. We discuss some of the ransomware stories we missed while we were off air, as well as a ransomware whitepaper we recently worked on and made available to our customers. Apart from ransomware, we also discuss Mēris - a huge botnet that emerged over the summer and has aimed massive DDoS attacks at various organizations around the world.