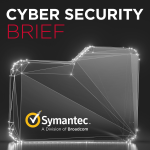 Symantec Cyber Security Brief Podcast
Our regular podcast series features threat research and security news, hosted by threat researchers from the Threat Hunter Team.
A new ransomware whitepaper and some recent ransomware stories, plus new botnet is carrying out giant DDoS attacks
We are back for Season 4 after our summer break, and on this week's Cyber Security Brief podcast Dick O'Brien and Brigid O Gorman spend a lot of time discussing the subject that also dominated the last season of the podcast - ransomware. We discuss some of the ransomware stories we missed while we were off air, as well as a ransomware whitepaper we recently worked on and made available to our customers. Apart from ransomware, we also discuss Mēris - a huge botnet that emerged over the summer and has aimed massive DDoS attacks at various organizations around the world.