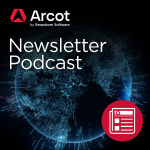 Arcot Newsletter Podcast
A podcast series for a walkthrough of the Arcot monthly newsletter.
Champion/Challenger Testing for Global 3.0 Model Upgrade, Arcot Scorecard, Industry Updates
This is the testing episode for the Arcot Newsletter podcast. After years of planning and preparation, we finally passed the FCA deadline on March 14th. Initial indications are that the transition has been a success with minimal impact on cardholders. Congratulations to all involved as the UK enters this new era of secure digital payments. Arcot will continue to monitor the situation and update you on developments. Elsewhere in the world, EMV3DS adoption continues to increase as 3-D Secure becomes the standard for digital payment security. This is particularly clear in the US where a number of high-profile merchants have recently activated EMV3DS. Listen in to the March Arcot Newsletter coverage by James Jenkins and Matt Cooke. Hope you enjoy this edition!