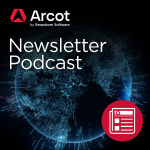 Arcot Newsletter Podcast
A podcast series for a walkthrough of the Arcot monthly newsletter.
The Arcot Network, OOB Authentication Enhancements, EMVCo Protocol Updates
In this edition, we share updates including EMVCo and 2.3.1, the Arcot Network strategy, and continue our celebration of 25 years of Arcot. With PSD2 and the FCA mandate now fully in force, we continue our focus on optimization; leveraging the Arcot Authentication scorecard to drive higher CSR, ASR, and fight fraud. In addition, Arcot's enhanced APIs and connectivity create opportunities for deeper integration, leveraging the Arcot Network to score transactions beyond 3DS. Hope you enjoy this edition!