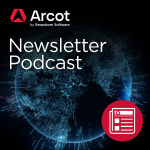 Arcot Newsletter Podcast
A podcast series for a walkthrough of the Arcot monthly newsletter.
3-D Secure Optimization using Delegated Authentication
In this edition, we have Matt Cooke and James Jenkins discussing the 3-D Secure (3DS) optimization with a focus on Delegated Authentication, one of the key tools for minimizing friction during an eCommerce transaction while at the same time reducing fraud. Arcot is actively working with issuers and merchants on Arcot Delegated Authentication Framework to provide the contractual vehicle to support these transactions. This supports other tools such as Trusted Beneficiary, Data Only, and a wide range of available exemptions all designed to make 3DS work better. We also discuss the increasing problem of fraud attacks on Authorized Push Payments (APP) where fraudsters trick genuine cardholders to complete a fraudulent transaction. We explore how to leverage the Arcot Network to identify high-risk beneficiary accounts before funds are transferred thereby blocking fraud and protecting often some of the most vulnerable customers. Subscribe to our Monthly Newsletter to stay updated via email.
The Arcot Network, OOB Authentication Enhancements, EMVCo Protocol Updates
In this edition, we share updates including EMVCo and 2.3.1, the Arcot Network strategy, and continue our celebration of 25 years of Arcot. With PSD2 and the FCA mandate now fully in force, we continue our focus on optimization; leveraging the Arcot Authentication scorecard to drive higher CSR, ASR, and fight fraud. In addition, Arcot's enhanced APIs and connectivity create opportunities for deeper integration, leveraging the Arcot Network to score transactions beyond 3DS. Hope you enjoy this edition!